A wide range of navigation instruments make life on board easier: GPS, compass, radar, wind sensor, etc. Digital Yacht wants to provide you with turnkey solutions for a complete navigation system, including all the instruments you need for your on-board electronics. To make your life easier: data is displayed via your tablet or smartphone in addition to the traditional displays.
Three packages are currently available: iSeaSense, iSeaSense wind and advanced iSeaSense.
The first provides you with instruments for measuring depth, speed and water temperature, as well as pitch and roll detection thanks to an integrated spatial sensor. The second pack offers all the functions and components of Pack 1 but also includes the WND100 wind sensor, which displays real and apparent wind speed and calculates VMG. The final pack includes a Class B+ AIS transponder equipped with its own VHF AIS antenna, an electronic compass and two NMEA 2000 cabling kits, providing everything you need to create a complete navigation system on board your boat.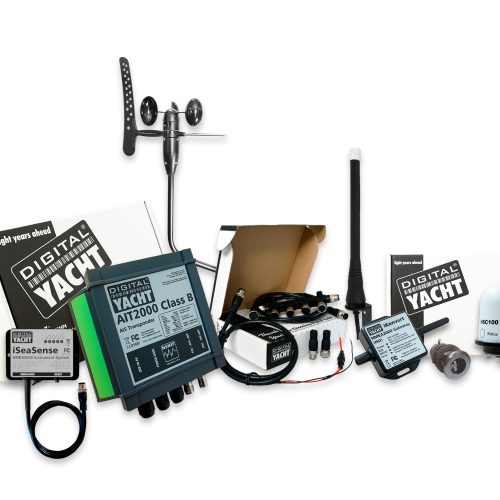 $

3,810.00
"A sophisticated system with a Class B SOTDMA AIS transponder integrated to provide AIS and GPS data as well as instrumentation. This system is expandable using a NMEA2000 backbone and the iSeaSense Wi-Fi Server stream wirelessly all instruments and AIS data on to navigation apps & software."